Cruises from Queenborough
Queenborough All-Tide Landing
Crundells Wharf
Queenborough
ME11 5EL
This Months Cruises
Southend day trip
Every Monday, Tuesday, Wednesday in August

From the Isle of Sheppey, Southend looks so close but yet it so far often taking an hour and a half (or sometimes longer) to travel from Kent to essex via the Dartford Bridge.
Join us on this fantastic day out to once again have fish and chips on the beach, visit Adventure Island or ride the train to the end of the pier on a picturesque cruise that aims to give you about 6 hours of free time ashore.
Note: Southend Pier is accessible via a steep ramp. This is not suitable for wheelchairs or for the mobility impaired.
Itinary
1000 Depart Queenborough
1045 Arrive Southend
Approximatly 6 hours ashore.
1700 boat departs Southend Pier
1745 Arrive Queenborough
*timings may vary slightly depending on the tide.
Prices:
Adult (day return) £22
OAP (day return) £18
Child (day return) £15
Family (day return) (2+2) £55
Under 3's Free (But must have a ticket)
Note: All ticket prices include Southend pier train tickets.
(Open returns are not available on this tour)
Onboard facilities include Toilets and a Bar, selling Tea, coffee and a variety of alcoholic beverages and light snacks.
For more information on the boat please click here.
Around the Wreck
Every Monday, Tuesday, Wednesday in August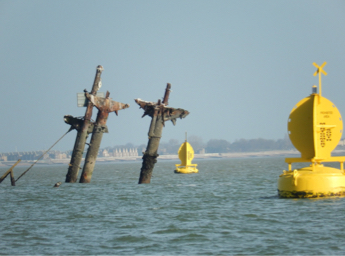 In August 1944, a US liberty ship arrived in the Thames Estuary. a vessel that would plague Sheerness for the next 76 years. After having dropped its anchor in the Nore anchorage, she tried to ride out a Northerly gale, but dragged and grounded on the Sheerness Middle Sand.
Today, this infamous wreck remains part loaded with over 1500 tonnes of her explosive wartime cargo onboard. Over the years she has remained visible to every ship that passes her, but that is soon to change. In 2021, it is expected that this wartime disaster will have its masts cut down.
Will you be one of the last to see her up close and still breaking the surface?
Itinary
Departing Queenborough All-tide Landing, this tour takes in sights of Sheerness docks, Garrison Fort, Grain Tower, the old Olau Terminal and the SS. Richard Montgomery.
Tour length
1 hour
Prices:
Prices:
Adult (day return) £15
OAP (day return) £12
Child (day return) £10
Family (day return) (2+2) £40
Under 3's Free (But must have a ticket)
For more information on the boat please click here.
Around the Island
15th & 29th August 2021

Discover the Coastline of Sheppey. From the diverse wildlife of Elmey and Hartey to the Cliffs of Eastchurch, this tour is a great day out to reflect on the Islands history and what why so many people live, work and holiday on the Island.
Itinary
Departing Queenborough All Tide landing, this cruise will sail the Swale, passing under the Kings Ferry Bridge and cruising past Elmley nature reserve and Harty Ferry. On passing Shellness, the cruise will head out to sea for a short distance and return via Warden point, the S.S. Richard Montgomary and eventually pass back in through Sheerness Harbour. ( Note: depending on conditions th trip may be operated in th reverse dirction)
Tour length
4-5 hours
Prices:
Adult £30
OAP £25
Child £20
Family £86 (2+2)
Under 3's Free (But must have a ticket)
For more information on the boat please click here.
NOTE: Direction of the tour may vary depending on the tidal conditions and weather, if conditions are not favourable at sea (between Shellness to Garrison point, the vessel may return via the Swale).
FAQ
How do I by tickets?
Tickets must be purchased through our website by clicking the Book now button above. Tickets are not available onboard the boat.
Where do you drop us in Southend?
We drop you at the end of Southend Pier. Your ticket will allow you to then board the pier train and to travel to the shore. We aim to give you around 4-5 hours of free time ashore.
What happens if the weather is bad?
The boat has seating inside and outside, so we will still travel if it rains. We may experience some waves which may cause the boat to rock but we will only cancel if wind is above our safe operating perameters. In such a case please refer to our terms and conditions
Will do you sell drinks onboard?
We have a bar selling a variety of drinks including Tea, Coffee, beverages and snacks.
Where can I Park in Queenborough?
Parking is available in any of the Public carparks in the Queenborough area.
Please ensure you display a valid parking ticket at all times.
Queenborough Libruary, ME11 5AX
Guildhall Carpark, ME11 5EJ
Park Road, ME11 5EU
Click here for further Parking information
PARKING IS NOT PERMITTED ON CRUDDELLS WHARF.
Can I use a Train/Bus to get the Pier?
Yes you can. The closest Train and Bus stop is Queenborough Railway Station , which is served by the 368 Arriva bus.
Once you alight from the bus walk towards the mini roundabout and turn right. Continue along North Road, until you reach the river. Turn right onto Crundells Wharf.
Can I get a Pram, Bicycle or Wheelchair on the boat?
We can accomodate prams or wheelchairs on the boat from Queenborough, however the individual must be able to walk unassisted ashore at Southend. If the individual cannot walk unassisted up a flight of stairs then they will not be able to alight at Southend Pier.
Bicycles are not permitted on Southend pier, foldable Bicycles, in a carry case may be permitted.
Will there be a commentary onboad?
The boat will offer a limited commentary as the boat departs the River Medway.
Do you offer private hire?
Yes Our vessel is available fore hire From Queenborough all year round, with the exception of early march when the vessel attends Dry dock.
Where is your pick up point in Queenborough?
Sign up to our mailer (below) to get more information on services from Queenborough.