About Us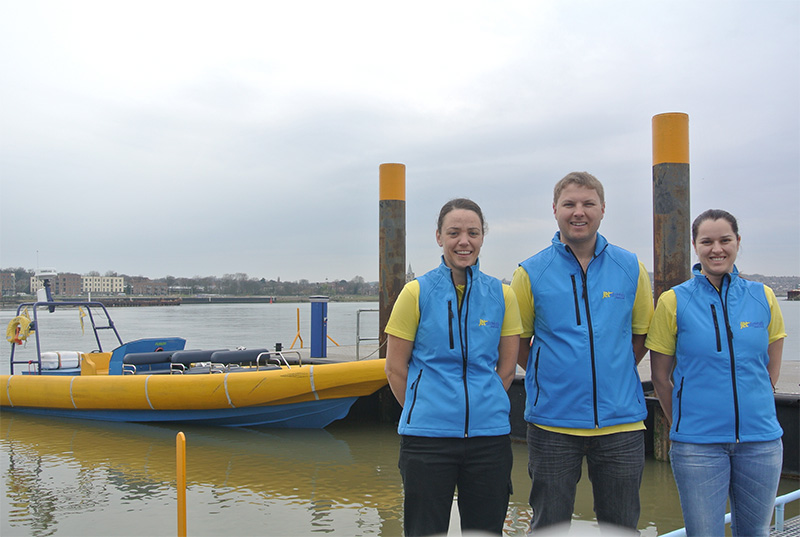 Jetstream Tours was the creation of the company director, Richard Bain, in 2013. Richard has always had a passion for boats and has worked on the river since 2001. He initially entered the family business of supplying workboats and tugs from Gravesend but soon ventured off to roles within other river-based businesses in London.
In 2014, Jetstream Tours started trading with a small and agile vessel, "Twist", a 9m aluminium Jetboat offering river safaris and thrill rides. The tours were a resounding success and allowed visitors in Medway an opportunity to use the river and to discover Chatham Historic Dockyard and its fascinating naval history.
Over the next few years, Jetstream Tours has worked tirelessly to maintaining and improving its jetboat service, striving to ensure its customers were 100% satisfied with the service they received and our success is down to our team of committed staff members. We understood the initial complications with "Twist" as she is a seasonal vessel and only appealed to the fit and able bodied sailors. In a five year plan the company aimed to provide Medway with a slower and more accessible tour suited for younger families. We made it possible in just three.
Towards the end of 2015, Richard started venturing to many ports to locate a larger sightseeing vessel, one that could take a larger number of passengers out on relaxing commentated tours of Rochester and Chatham. The answer was found in the Channel Islands.
In February 2016, Jetstream Tours secured it's second vessel, Jacob Marley. This unique vessel ticked every box on the companies wish list. Capable of carrying up to 100 persons with disabled access, a bar, toilets and low enough to pass underneath Rochester Bridge. By April, Jacob Marley made her 32-hour voyage from Jersey to the River Medway. Now passengers of all ages and abilities can see the beauty of the River.
Will we stop here? We certainly won't...
Our next 5 year vision and our pledges to you
Jetstream Tours is fast approaching our five year anniversary and we have so many people to thank. Through our hard work we are helping re-connect the River Medway with the people.
Our vision has always been to promote waterbourne transport in Kent and the acheivements that we have accomploished in the last 5 years has echo'd across the county. Who knew that by 2018 so many new routes would be available from Kent into Essex. But now our passion is to reinforce our hard work by continuing to develop the services that we have to offer. Our plan for the next 5 years is not so easy:
Rochester Chatham and Medway
Rochester, Chatham and the Medway Towns are where we first founded our business, it is here where we still feel that most of our core development can be made. With three piers accressable to us we are already making provisions to open up a more perminant River bus service along the river. 2018 could soon see the start of a scheduled route linking the etablished piers so that people can travel to the various festivals, attractions and shops abreast the river. It is through this initiative that that we aim to drive down traffic from Medways congested roads and transport people by water.
In removing cars from the roads its will improve local air quality and improve travel times around the and to further afeild.
Southend
In April 2017, we successfully implemented a new route from Rochester to Southend. Proving that the piers at both ends were suitable for the safe discharge of our passengers from our vessel. Alot of trials took place behind the scenes to make Southend a reality, including testing our vessel on the pierhead before we offered tours for sale.

During the course of 2017 year we learnt a lot about Southend pier uncovering our operational limits, boarding conditions, weather restrictions and ticketing, but more importantly we learnt that there were many day visitors and residents of Essex that would like to travel to Kent by boat. Not just for the day but for the weekend, or even the week. Suggestions of open returns and day trips were voiced to us as onlookers took our brochures and leaflets. It has paved the way for our vessel to now offer trips from the pier for the people of Essex this year.
In 2018, Jetstream will be offering transport solutions from Southend to Rochester so that we can bring more footfall to our local area. Tours are already advertised for the Dickens Festivals and to the Historic Dockyard at Chatham.
We will continue to work with local businesses in Medway to increase footfall to Medway and Kent.
Gravesend
In 2017, Jetsteram Tours were awarded a 5 year contract to operate the Gravesend to Tilbury Ferry. This service we will continue to build upon and will be improving the service through reliability, accessability and footfall. The service will continue to operate on behalf of Kent and Thurrock council but will benefit from our marketing, cross-promotion and ticketing solutions.
In 2018, Jetstream will be promoting new routes from Gravesend Town Pier and are working closely with the Gravesend Borough Council to increase the use of the pier towards London and Southend. This will also build on Turrocks accessability and offer new day's out for loacl residents.
Isle of Sheppey
Whilst we have as a company, concluded that a regular service to Queenborough from Southend pier will not be possible until access to the lower deck of the Pier has been restored. We will continue to work with Southend Pier and with Swale Borough council to to develop a framework of routes from Essex into Kent. This will then allow us to land at any state of tide and allow us to provide a sustainable, frequent and reliable service to Sheppey and then offer an integrated onward travel solution to all. A service that can be timetabled, offer seasonal tickets, daily tickets and even open returns. Day trips and Private charters however may still be possible to organise tides depanding.
Charity work
Our business is sited within environmentally sensitive areas and we feel that, as a company, we should contribute back to the area by ensuring we have strict environmental policies and porceedures. We also have found that Medway lacks a team that works towards a better river envirnoment, one that monitors and builds awareness of modern issues such as air quality and water plastics. Jetstream Tours is proud to be a founding member of the Living River Foundation. Our contribitions have helped towards the sampling for Microplastics found within the waters of our local rivers. Armed with a better understanding of suspended microplastics in our waters we can then look at a solution to fight it. We will also be promoting the removal of single use plastics across the fleet as well as in our homes.
If you would like to get involved please contact; Living River foundation.
The Dickens Project
Here lies the biggest part of our vision.
For more information see our dedicated page